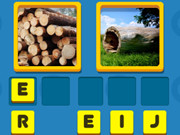 Assotiation
Kategoria :
Puzzle
Oceny graczy :
(0)
---
Opis :
This game is newly developed for the guys, who are learning the English word. The players just need to find the association between the four pictures. And then collect the letters to spell the word. The process is really interesting and useful. Hope you can join us and have fun!
Hasła :
Word, puzzle, Letters, kids, HTML5, educational, collecting, brain, Boy, android
Control :
use the mouse to choose.
Author :
yiv.com
---
Komentarze
Zaloguj się lub zarejestruj, aby dodać komentarz