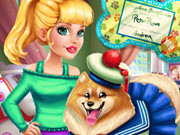 Audrey Adopts A Puppy
Kategoria :
girl
Oceny graczy :
(0)
---
Opis :
Audrey found a stray puppy on her way home. Audrey took the puppy home, then started washing the puppy, brushing its fur and feeding it to eat. Finally, dress the puppy and officially adopt it. Have fun play with Audrey Adopts A Puppy.
Hasła :
kids, HTML5, Grooming, Girl, Fashion, Dress Up, Decorate, animal, android
Control :
Use the mouse to play.
Author :
girlsplay.com
---
Komentarze
Zaloguj się lub zarejestruj, aby dodać komentarz