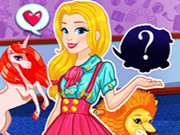 Audrey's Toy Shop
Kategoria :
girl
Oceny graczy :
(0)
---
Opis :
Welcome to Audrey's Toy Shop. In the shop, you'll help Audrey spend the gold coins to get some player-making tools, and then you'll have to sell them to customers and collect the gold coins so you can unlock all the secret toys. Have fun.
Hasła :
Shopping, kids, HTML5, Girl, cute, collecting, animal, android
Control :
Tap on the screen on mobile phone and mouse click on PC.
Author :
girlstand.com
---
Komentarze
Zaloguj się lub zarejestruj, aby dodać komentarz