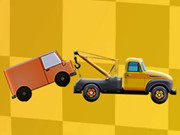 Avoid The Tow Truck
Kategoria :
Puzzle
Oceny graczy :
(0)
---
Opis :
Avoid The Tow Truck is a puzzle game. You drive happily on the road in the car you just bought, and suddenly a tow truck appears behind you. In order to prevent the row truck from touching your car, you start a exciting avoid the tow truck! Change the direction of the car by clicking to avoid being hit by the tow truck.
Hasła :
Truck, puzzle, Point And Click, kids, highscore, car, Boy, avoid, GameDistribution, android
Control :
Use mouse to play this game.
Author :
onlinetruckgames.net
---
Komentarze
Zaloguj się lub zarejestruj, aby dodać komentarz