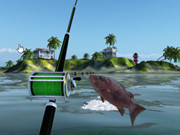 Azure Sea Fishing
Kategoria :
other
Oceny graczy :
(0)
---
Opis :
Azure Sea Fishing is a fishing simulator for those who enjoy relaxing in the middle of a sea. Move around the sea and look for different types of fish to catch. Try to get the biggest, most rare fish out of the water and earn money to buy lure, rods or even a new boat. Have fun!
Hasła :
Simulation, Relaxation, kids, HTML5, highscore, Fishing, fish, Boy, android
Control :
Mouse or tap to play.
Author :
playcombo.com
---
Komentarze
Zaloguj się lub zarejestruj, aby dodać komentarz