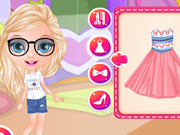 Baby Abby Funny Crafting Day
Kategoria :
girl
Oceny graczy :
(0)
---
Opis :
Baby Abby is getting ready for Mother's Day as she wants to prepare something really special for her mom. She is going to design a personalized bag just as her mom would like to have, then she is going to decorate some delicious cookies and wrap them in a nice box. Last but not least, baby Abby wants to create a Mother's Day card decorated with pretty flowers. Help her with the craft work and make sure to dress her up in something cute for the occasion!
Hasła :
kids, HTML5, Holiday, Girl, food, Fashion, Dress Up, Design, Decorate, cute,
Control :
Mouse or tap to play.
Author :
egirlgames.net
---
Komentarze
Zaloguj się lub zarejestruj, aby dodać komentarz