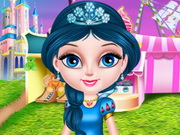 Baby Elsa In Disneyland
Kategoria :
Puzzle
Oceny graczy :
(0)
---
Opis :
Elsa comes to Disneyland and she was very happy. She wants to find Disney dolls in every corner of Disneyland, and if they find them all, they will be rewarded and she will be able to wear Disney clothes. Have fun with Baby Elsa In Disneyland.
Hasła :
Princess, kids, HTML5, hidden, Girl, Elsa, Dress Up, Disney, android, cartoon, tablet
Control :
Tap on the screen on mobile phone and mouse click on PC.
Author :
babygames.com
---
Komentarze
Zaloguj się lub zarejestruj, aby dodać komentarz