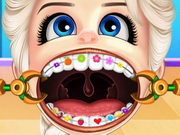 Baby Elsa Wears A Brace
Kategoria :
girl
Oceny graczy :
(0)
---
Opis :
You're a dentist and there's a lot of people coming to see the teeth. Today, your customer is baby Elsa. Her teeth are very untidy. You have to help baby Elsa with her teeth and put on her lovely braces. When her teeth are finished, Elsa's mother will take baby Elsa to shop and dress her in beautiful clothes. Have fun play with Baby Elsa Wears A Brace.
Hasła :
Surgery, Princess, Movie, kids, HTML5, Girl, Frozen, Fashion, Elsa, Dress Up
Control :
Tap on screen on mobile phone and mouse click on PC.
Author :
babygames.com
---
Komentarze
Zaloguj się lub zarejestruj, aby dodać komentarz