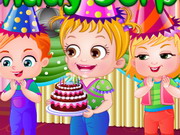 Baby Hazel Birthday Surprise
Kategoria :
girl
Oceny graczy :
(0)
---
Opis :
Baby Hazel is having fun with her darling pets, suddenly her phone rings. It's a reminder call regarding Akito's birthday. Then Hazel decides to go shopping, you can help darling Hazel in picking stuff for the birthday party and prepare gifts for her best friend Akito and finally give him a birthday surprise! Have fun!
Hasła :
Shopping, Pet, party, kids, HTML5, Girl, educational, Decorate, Baby Hazel, Baby
Control :
Mouse or tap to play.
Author :
babyhazel.com
---
Komentarze
Zaloguj się lub zarejestruj, aby dodać komentarz