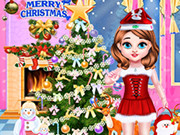 Baby Taylor Happy Christmas
Kategoria :
girl
Oceny graczy :
(0)
---
Opis :
The most important day for Taylor, Christmas, is coming, she is so happy and she wishes to get a gift from the Santa. Now you need to help them to buy some decorations about Christmas and decorate a beautiful Christmas tree. Enjoy this day with baby Taylor and her family!
Hasła :
Plant, kids, HTML5, Holiday, Girl, Decorate, cute, Christmas, Baby, android, tablet
Control :
Tap on screen on mobile phone and mouse click on PC.
Author :
babygames.com
---
Komentarze
Zaloguj się lub zarejestruj, aby dodać komentarz