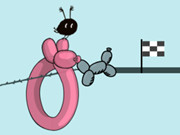 Balloon
---
Opis :
Balloon is an arcade side-scrolling game. In the game, all you have to do is tap the balloon to avoid touching the spikes. Collect balloons, go further, get more points. Good luck and have fun.
Hasła :
skill, Side Scrolling, Obstacle, kids, HTML5, highscore, collecting, Boy, Balloon, avoid
Control :
Use the mouse to play.
Author :
frvr.com
---
Komentarze
Zaloguj się lub zarejestruj, aby dodać komentarz