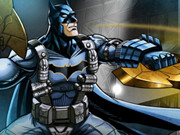 Batman Missons: Gotham City Mayhem
---
Opis :
Recently, there have been some criminals appeared in Gotham City, and brave Batman decided to give them some lessons. Use Batman's weapon to defeat all the bad guys. This game tests your reaction speed. If you don't destroy the enemy in time, you may get hurt. Take the lead with the superhero mission! Good luck and have fun.
Hasła :
Superhero, Movie, kids, HTML5, highscore, Fighting, cartoon, car, Boy, Batman
Control :
X to boost, Z to brake, left and Right arrows to lean for balance.
Author :
nosite.com
---
Komentarze
Zaloguj się lub zarejestruj, aby dodać komentarz