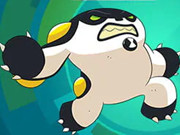 Ben 10 Cannonbolt Crash
---
Opis :
Ben 10 Cannonbolt Crash is a fighting cartoon game, In this game, your task is to eliminate all the enemies on the screen. It's not easy. You need to master the skills to use Ben 10's special powers to roll. Have fun and good luck.
Hasła :
skill, kids, HTML5, Fighting, Cartoon Network, cartoon, Boy, Ben 10, android
Control :
Tap on the computer or touch the screen on your mobile phone.
Author :
cartoonnetwork.com
---
Komentarze
Zaloguj się lub zarejestruj, aby dodać komentarz