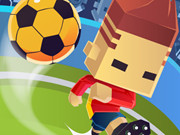 Blocky Kick 2
Kategoria :
Sports
Oceny graczy :
(0)
---
Opis :
Are you an excellent football player? If you are, you must like the game. Get ready for the coolest free kick soccer, shot the ball and goal all the balls. As the game progresses, the balls will be faster and shot at more difficult angles. Reach the best scores with all world teams. Enjoy it!
Hasła :
sports, soccer, Launch, kids, HTML5, football, Boy, ball, android
Control :
Mouse or tap to play.
Author :
kiz10.com
---
Komentarze
Zaloguj się lub zarejestruj, aby dodać komentarz