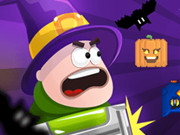 Boss Level - Pumpkin Madness
---
Opis :
Billy boy fell into a retro game console and is now fighting the boss! In the game, avoid obstacles by firing at the target multiple times to earn more gold coins. Enjoy this Halloween version of the Boss Level Shootout original game!
Hasła :
skill, Shooting, retro, Obstacle, Killing, kids, HTML5, Holiday, Gun, fire
Control :
Use the mouse to play.
Author :
gamepix.com
---
Komentarze
Zaloguj się lub zarejestruj, aby dodać komentarz