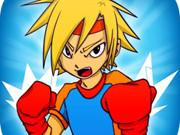 Boxing Fighter Shadow Battle
---
Opis :
Do you want to be a good boxer? Join Boxing Fighter Shadow Battle to start training your boxing skills! You will face all kinds of enemies, and they are very powerful. Destroy the enemies before you are killed! Only the bravest warrior can complete the challenge successfully. Use arrow keys to control the direction. Join the game and have fun!
Hasła :
skill, Punch, monster, kids, HTML5, highscore, Fighting, dragon, Boy, Boxing,
Control :
Arrow keys to control.
Author :
playtouch.com
---
Komentarze
Zaloguj się lub zarejestruj, aby dodać komentarz