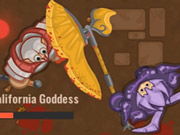 Brutalmania.io
---
Opis :
Brutalmania.io is an interesting game, In this game, You use a stick to beat enemies and defeat zombies. If you fail, That proves you're a novice and you need to try harder and buy upgrades to become stronger. Have fun and enjoy the game.
Hasła :
zombie, undead, Multiplayer, kids, HTML5, highscore, Fighting, collecting, Boy, blood
Control :
Move your mouse to move, Left mouse button to attack, Right mouse button to sprint.
Author :
brutalmania.io
---
Komentarze
Zaloguj się lub zarejestruj, aby dodać komentarz