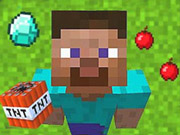 Crazysteve.io
---
Opis :
CrazySteve.io is an amazing multiplayer online game, you will play as Steve from Minecraft, collect the red bombs and the blue crystals to create your TNT and make yourself bigger, push your TNT to trap your enemies and blow them up! The bigger you are the stronger you will become. Have fun with Crazysteve.io!
Hasła :
skill, PVP, Pixel, Multiplayer, Minecraft, Killing, kids, HTML5, collecting, Boy
Control :
Left-click to throw TNT. Right-click to boost speed.
Author :
crazysteve.io
---
Komentarze
Zaloguj się lub zarejestruj, aby dodać komentarz