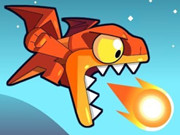 Drag'n'boom Online
---
Opis :
As a rebellious teenage dragon and burn everything in your path! Roast the neighboring lords and steal their gold in order to amass the greatest treasure. Aim your direction and fly over beautiful castles. Collect more coins and buy new upgrades. Be careful with the enemies and spikes. Enjoy it!
Hasła :
skill, platform, Obstacle, kids, HTML5, fire, dragon, collecting, Boy, avoid,
Control :
Mouse or tap to play.
Author :
kiz10.com
---
Komentarze
Zaloguj się lub zarejestruj, aby dodać komentarz