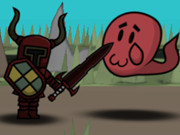 Ef Universe: Endless Battle
---
Opis :
It's an endless battle. You're going to kill the monsters and get the gold coins. You can use gold coins to buy new equipment. Have fun play with Ef Universe: Endless Battle .
Hasła :
monster, Killing, kids, HTML5, Fighting, Boy
Control :
Use the mouse to play.
Author :
gogy.com
---
Komentarze
Zaloguj się lub zarejestruj, aby dodać komentarz