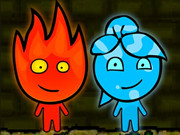 Fireboy And Watergirl 2 Light Temple
---
Opis :
Now the Fireboy and Watergirl come to the Light Temple. There are many obstacles for them to overcome. Play with your friends or by yourself to move the two characters. Can you finish the levels in less time? Start the adventure with Fireboy and Watergirl. Good luck.
Hasła :
skill, platform, Obstacle, kids, Jumping, jewel, HTML5, funny, fire, Editor Choice,
Control :
Use the arrow keys to guide fireboy, use AWD to guide watergirl.
Author :
kizi.com
---
Komentarze
Zaloguj się lub zarejestruj, aby dodać komentarz