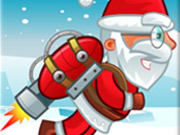 Flappy Santa
Kategoria :
other
Oceny graczy :
(0)
---
Opis :
Flappy Santa is an addictive flying game. In the air, during the flight, Santa will meet different kinds of obstacles. Remember to avoid obstacles or you will lose the game. Have fun with the Flappy Santa.
Hasła :
skill, Rocket, Obstacle, kids, HTML5, Holiday, flight, Boy, Balloon, avoid,
Control :
Mouse or tap to play.
Author :
cloudgames.com
---
Komentarze
Zaloguj się lub zarejestruj, aby dodać komentarz