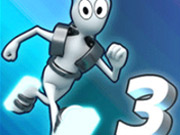 G-switch 3
---
Opis :
G-switch 3 is an interesting running game. In the game, your running robot runs straight ahead and avoid to miss a platform and to fall off the screen. Choose the endless mode to challenge your buddy, the AI or your own high score. Can your running robot break the record for distance? Come and have a try!
Hasła :
skill, Running, platform, Obstacle, kids, Jumping, HTML5, Boy, avoid, android
Control :
Mouse or tap to play.
Author :
poki.com
---
Komentarze
Zaloguj się lub zarejestruj, aby dodać komentarz