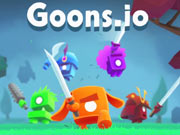 Goons.io
---
Opis :
Goons .io is an interesting multiplayer online game, you'll have a sword, you can kill your enemies by wield your sword in their place, once you finish a kill, your sword will become shiny for a moment, if you kill another enemy in before the shin disappear, you'll complete a combo kill, combo kill can help you get a higher score. There are several modes for you to choose, like the classic mode, capture flag mode, and team mode, all three modes are fun to play, have fun!
Hasła :
Sword, skill, PVP, Multiplayer, kids, highscore, collecting, .io, HTML5
Control :
Mouse = move, Space / Click = attack, Right Click = boost.
Author :
goons.io
---
Komentarze
Zaloguj się lub zarejestruj, aby dodać komentarz