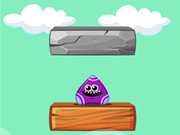 Jelly Jumping
---
Opis :
Jelly Jump is a fun relaxing game, tap and hold on the screen to accumulate forces, release it at the proper timing, you need to take every jump carefully, provide your jelly from crashing the spikes up in the top, or fall down to the spikes down there, collect stars while jumping, and use it to unlock new kinds of jelly. Have fun!
Hasła :
skill, Relaxation, kids, Jumping, HTML5, highscore, collecting, Boy, avoid, android,
Control :
Use the mouse to play.
Author :
nosite.com
---
Komentarze
Zaloguj się lub zarejestruj, aby dodać komentarz