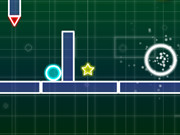 Neon Ball
---
Opis :
Neon Ball is an interesting relaxing game. When you feel bored or want some fun, this game will always be a good choice, tap on the left or right side of the screen, to rotate left or right, your goal is to let the ball get in the shining circle, but collect stars to increase the fun for yourself, you need to do handle the slight difference of the force using, you may notice the score on the top left corner is decreasing rapidly, that means you need to finish the game fast if you want a high score. Have fun!
Hasła :
skill, platform, kids, HTML5, highscore, collecting, Boy, ball, Balance, avoid,
Control :
Left click or tap on the left side to rotate left, right click or tap on the right side to rotate right.
Author :
qkygames.com
---
Komentarze
Zaloguj się lub zarejestruj, aby dodać komentarz