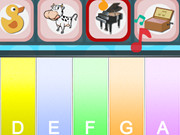 Piano For Kids Animal Sounds
Kategoria :
music
Oceny graczy :
(0)
---
Opis :
Piano For Kids Animal Sounds is a music simulation game with 7 animals sound and 3 instruments sound. You can choose an animal and choose an instrument to hear the animal sound played by different instruments. This game is so suitable for kids, don't wait to play!
Hasła :
Music, kids, HTML5, educational, cat, Boy, bird, animal, android
Control :
Mouse or tap to play.
Author :
yiv.com
---
Komentarze
Zaloguj się lub zarejestruj, aby dodać komentarz