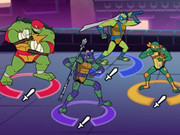 Rise Of The Tmnt City Showdown
---
Opis :
Rise Of The Tmnt City Showdown is a very interesting game. In the game, You can destroy the enemy one by one, eventually winning and rising to the next level. Have fun and enjoy this game.
Hasła :
kids, HTML5, House, food, Fighting, cartoon, car, Boy
Control :
Use the mouse to control.
Author :
nick.com
---
Komentarze
Zaloguj się lub zarejestruj, aby dodać komentarz