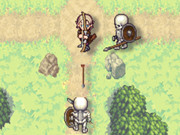 Robin Moody
---
Opis :
Robin Moody is a shooting game. Your enemy are vicious zombies. Use your bow and arrows to shoot as many zombies as you can. The zombies attack you from different directions. React quickly to shoot the zombies around you. Good luck!
Hasła :
zombie, retro, Pixel, Killing, kids, HTML5, Fighting, defense, Boy, Bow
Control :
Use arrow keys to move and space bar for shoot.
Author :
g8-games.com
---
Komentarze
Zaloguj się lub zarejestruj, aby dodać komentarz