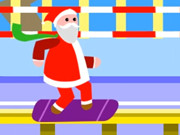 Santa Ski
---
Opis :
Santa wants to ski in the long road. Do you want to help the Santa? If you want, you can control to help him. You need to speed up and should know the yellow area for ski perfect. You should help him jump where there is a springboard. Have a great time!
Hasła :
skill, Ski, Running, platform, Plant, kids, Jumping, HTML5, House, highscore,
Control :
mouse or tap to play.
Author :
cloudgames.com
---
Komentarze
Zaloguj się lub zarejestruj, aby dodać komentarz