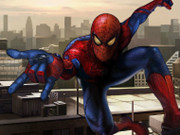 The Amazing Spider Man
---
Opis :
Do you like Spiderman? Do you want to experience Spiderman? You can experience spiderman in this game. You can run on the roof and fly from one building to another. You can also use your special skills to kill your enemies and collect things. There are many interesting levels for you to play. Have fun play with The Amazing Spider Man. Good luck.
Hasła :
Superhero, Killing, kids, HTML5, highscore, Fighting, collecting, Boy, 3D
Control :
Arrow keys to move the Spiderman. Spacebar to use web swing. 1 to use the special move.
Author :
gameflare.com
---
Komentarze
Zaloguj się lub zarejestruj, aby dodać komentarz