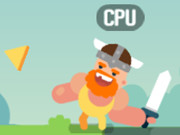 Viking Brawl
---
Opis :
Viking Brawl is a fun platform battle game. You can choose 2 player modes or play with AI. You will kill your enemies with a sword. You can click the mouse to attack or jump. You need to focus and respond quickly. Have fun and good luck.
Hasła :
Sword, platform, Killing, kids, HTML5, highscore, Fighting, Boy, android, 2 Player
Control :
Use the mouse to play.
Author :
yiv.com
---
Komentarze
Zaloguj się lub zarejestruj, aby dodać komentarz