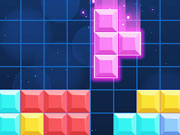 1010 Jungle Blocks
Kategoria :
jigsaw
Oceny graczy :
(0)
---
Opis :
1010 Jungle Blocks is a very interesting block puzzle game. In this game, you need to place a set of blocks on the board. If these blocks form 10 horizontal or vertical blocks of the same color, these blocks will be removed from the board. The more blocks you remove at a time, the more points you get. It is worth noting that the game has a time limit. You need to complete the missions of each level within the specified time. Are you ready?
Hasła :
Timing, Tetris, puzzle, kids, Jigsaw, HTML5, highscore, GameDistribution, brain, Boy
Control :
Mouse click or tap to play.
Author :
lofgames.com
---
Komentarze
Zaloguj się lub zarejestruj, aby dodać komentarz