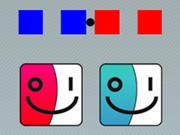 2 Squares
Kategoria :
Arcade
Oceny graczy :
(0)
---
Opis :
2 Squares is a fast-paced arcade game. In this game, you need to match the two squares of the same color. These squares will come from all sides, you need to rotate 2 squares that in the center of the screen. React fast to get a higher score. Show your talent in 2 Squares!
Hasła :
matching, kids, HTML5, highscore, Boy, block, arcade, android, GameDistribution
Control :
Use arrow keys to play or tap on the icons to rotate the squares.
Author :
g8-games.com
---
Komentarze
Zaloguj się lub zarejestruj, aby dodać komentarz