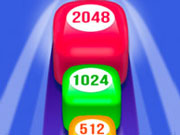 2048 3D
Kategoria :
Puzzle
Oceny graczy :
(0)
---
Opis :
2048 3D is a single-player sliding block puzzle game. The objective of the game is to slide numbered tiles on a grid to combine them to create a tile with the number 2048, however, one can continue to play the game after reaching the goal, creating tiles with larger numbers. The purpose is to make the cubes of the same number collide, multiply the numbers on the two cubes, and finally get the number 2048. Two identical number cubes collide and merge into their sum.
Hasła :
skill, puzzle, Obstacle, Number, math, kids, collecting, brain, Boy, HTML5
Control :
Click or tap to control.
Author :
yad.com
---
Komentarze
Zaloguj się lub zarejestruj, aby dodać komentarz