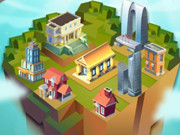 2048 City
Kategoria :
Puzzle
Oceny graczy :
(0)
---
Opis :
This is a number classic 2048 game with buildings, very simple. Your goal is to let the city grow to reach the indicated building. You can combine two identical houses to get a larger house. Master the game skill and get the high scores. Have fun with 2048 City!
Hasła :
puzzle, matching, kids, HTML5, brain, Boy, android
Control :
Tap on the screen on mobile phone and mouse click on PC.
Author :
htmlgames.com
---
Komentarze
Zaloguj się lub zarejestruj, aby dodać komentarz