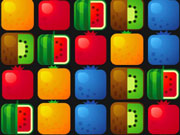 5 Fruits
Kategoria :
Arcade
Oceny graczy :
(0)
---
Opis :
5 Fruits is a fruit matching game. The fruit cube at the top of the screen must be the same as the fruit cube in the next row. The goal of eliminating the entire row of fruits has been reached. When your points reach 10 points, the types of fruits will change. Need to race against time, because the fruit moves very fast, move the fruit cube and get more points! After collecting 10 points, the type of fruit is changed. In this game you are in a race against time, be fast and earn more points as you can.
Hasła :
skill, matching, kids, HTML5, Fruit, Boy, block, arcade, android
Control :
Tap on screen to move fruit.
Author :
g8-games.com
---
Komentarze
Zaloguj się lub zarejestruj, aby dodać komentarz