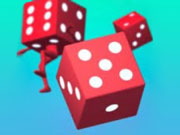 5roll
Kategoria :
Puzzle
Oceny graczy :
(0)
---
Opis :
To play 5 Roll, roll the dice. You can roll up to threetimes per turn.The goal is to get the highest scoring combination for one of 13 different categories. Roll all the dice by clicking the Roll button in thelower left corner. You can also click on any of the rolled dice to move them to the dice holder. See if you have the hot hand today and roll for a high score in this classic 5-dice game. Try your hand at the poker of dice games, roll your dice and look for pairs, 3 of a kinds, full houses and straights. See if you can't beat your own odds in 5 roll!
Hasła :
puzzle, kids, HTML5, GameDistribution, Dice, brain, Boy, android
Control :
Click or tap to control.
Author :
gamedistribution.com
---
Komentarze
Zaloguj się lub zarejestruj, aby dodać komentarz