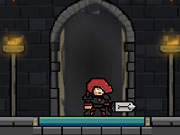 A Pixel Adventure - Vol. 2
Kategoria :
Puzzle
Oceny graczy :
(0)
---
Opis :
A Pixel Adventure is an adventure game with 40 levels. In the game, you will play as a knight who sneaks into the demon castle to save the princess. The princess is imprisoned in the dungeon of the demon castle. This is a very dangerous place. There are already many knights who died in this dungeon in order to save the princess, so you have to be very careful. You need to avoid obstacles and find the right path in the underground maze. At the same time, you have to defeat the guards of the maze, are you ready?
Hasła :
Sword, puzzle, platform, Pixel, Obstacle, monster, Knight, Killing, kids, Jumping
Control :
Use arrow keys to control the character move and click to jump.
Author :
gamedistribution.com
---
Komentarze
Zaloguj się lub zarejestruj, aby dodać komentarz