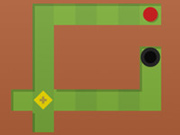 A Sliding Thing
Kategoria :
Puzzle
Oceny graczy :
(0)
---
Opis :
A Sliding Thing is a very relaxing puzzle game, what you need to do in this game is to slide the ball and throw it into the hole. It may be easy at the beginning but will become more and more difficult as the level increases. The route of some levels is very simple, but most of the levels require repeated routes. Your task is to find the shortest route. If you are a lover of puzzle games, don't miss this game. If you like this game, don't forget to share it with your friends.
Hasła :
puzzle, Paint, Maze, kids, HTML5, Drawing, brain, Boy, block, ball
Control :
Slide on the screen to play.
Author :
topmathgames.com
---
Komentarze
Zaloguj się lub zarejestruj, aby dodać komentarz