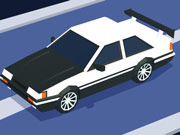 Ace Drift
Kategoria :
Arcade
Oceny graczy :
(0)
---
Opis :
Ace Drift is a very interesting new arcade game with 3D graphics of a driving game. It is worth noting that there are also popular models such as Toyota Corolla and Mazda RX7 FC3S in the game. Your task is to skillfully use drifting and turning skills to make The car reaches the end of each level smoothly. You cannot touch the roadblocks and guardrails on both sides. If you fail, you must restart the game from the starting point. Are you ready for this dangerous challenge?
Hasła :
skill, Obstacle, kids, HTML5, collecting, car, Boy, avoid, arcade, android
Control :
Use arrow keys to control the car move.
Author :
cargames.com
---
Komentarze
Zaloguj się lub zarejestruj, aby dodać komentarz