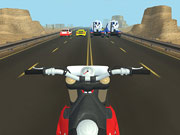 Ace Moto Rider
Kategoria :
other
Oceny graczy :
(0)
---
Opis :
The annual off-road motorcycle race is about to start, thrilling tracks, speeds beyond the limit, motorcycles of various colors, everything you want can be achieved in the game Ace Moto Rider! Don't hesitate, come and join the competition! It is worth noting that the opponent's speed is also very fast, you need to always pay attention to avoid the opponent's vehicle! The acceleration time is limited. Make good use of this short acceleration time to overtake your opponent. At the same time, you also need to abide by the traffic rules. You can't overtake on the actual line. Are you ready?
Hasła :
racing, Obstacle, Motorcycle, kids, HTML5, Editor Choice, car, Boy, Bike, avoid,
Control :
Use arrow keys to control the car move and space to brake.
Author :
cargames.com
---
Komentarze
Zaloguj się lub zarejestruj, aby dodać komentarz