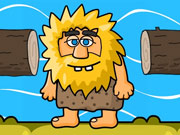 Adam And Eve Crossy River
Kategoria :
Puzzle
Oceny graczy :
(0)
---
Opis :
Adam and Eve were captured by monsters in the Garden of Eden, and they had to find a way to escape the monster's cave! In this brand new adventure game, help Adam and Eve cross the river and make sure that neither of them drowns or gets bitten by cancer or other dangerous animals, and at the same time reach the other side of the river safely! Test your skills and gameplay, and try to reach the highest score. It is worth noting that the first half of the levels are relatively simple, but the second half of the levels are very difficult, are you ready?
Hasła :
Turtle, skill, puzzle, platform, Obstacle, kids, HTML5, highscore, hidden, GameDistribution,
Control :
Use arrow keys to control the character move.
Author :
functu.com
---
Komentarze
Zaloguj się lub zarejestruj, aby dodać komentarz