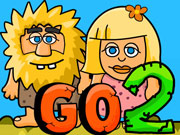 Adam And Eve Go 2
Kategoria :
Puzzle
Oceny graczy :
(0)
---
Opis :
Adam And Eve Go 2 is the second work in this series. The gameplay and art style of the series continues the first work. Eve lost her way in the foggy forest. Adam decided to find his wife. He needs your help. Unlock the forest path, use the mushroom boat to cross the river and repair the broken bridge, avoid the dangerous animals and the burning flames in the forest, are you ready to experience the adventure with Adam? Make good use of the ladders and keys in each platform!
Hasła :
skill, puzzle, platform, Obstacle, kids, HTML5, GameDistribution, Fruit, collecting, Boy,
Control :
Use arrow keys to control the character move.
Author :
functu.com
---
Komentarze
Zaloguj się lub zarejestruj, aby dodać komentarz