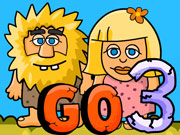 Adam And Eve Go 3
Kategoria :
Puzzle
Oceny graczy :
(0)
---
Opis :
Adam And Eve Go 3 is the third work in this series. It is consistent with the game style and gameplay of the first two. Adam will come to prehistoric times to accept dangerous challenges. In order to make Eve happy, you can help Adam do some fun Thing? Including finding a very rare flower that grows in a dangerous swamp, where there are dinosaurs, traps and various obstacles. You can use wooden ladders to move between different platforms, find different keys and collect beauty There are 15 different levels in the game!
Hasła :
Worm, skill, Side Scrolling, Running, puzzle, Obstacle, monkey, Maze, Jumping,
Control :
Use the arrow keys to control Adam. Use the left and right arrow keys to move around.
Author :
gamedistribution.com
---
Komentarze
Zaloguj się lub zarejestruj, aby dodać komentarz