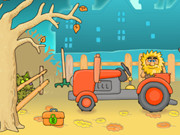 Adam And Eve: Zombies
Kategoria :
Puzzle
Oceny graczy :
(0)
---
Opis :
Zombie cats in town! Adam wants to home, but there are some scary zonbie cats in town, please help Adam run before he got caught by these zombies. the image is cute and the game is fun, enjoy!
Hasła :
zombie, undead, puzzle, Point And Click, HTML5, hidden, cute, cat, android
Control :
Use mouse to play.
Author :
functu.com
---
Komentarze
Zaloguj się lub zarejestruj, aby dodać komentarz