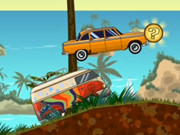 Adventure Drivers
---
Opis :
Drive your new car to participate in a racing game!! The game requires you to collect items, avoid obstacles, and surpass other players. Just keep going and use your excellent driving skills to complete the game. If you can show your true strength, you will overcome all difficulties and win the game. Do you want to be a champion? Join the game right away to prove yourself!
Hasła :
Truck, Stunts, skill, Side Scrolling, racing, Obstacle, kids, HTML5, House, highscore,
Control :
Use the keyboard to play.
Author :
poki.com
---
Komentarze
Zaloguj się lub zarejestruj, aby dodać komentarz