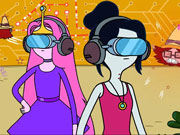 Adventure Time: Angry Betty
Kategoria :
other
Oceny graczy :
(0)
---
Opis :
Adventure Time: Angry Betty is a lightgun-style shooter game based on the Adventure Time animated cartoon TV series. Watch out for infected Betties on the loose, shoot them down before they attack, and be sure not to hit the real Betties by mistake. Betty has been infected by a computer virus and now princess Bubblegun and Marcelin need to blast away the infected Betty heads. Avoid hitting the healthy heads in this action shooting game. Try to score as high as you can.
Hasła :
Obstacle, Launch, Killing, kids, HTML5, Cartoon Network, cartoon, Boy, avoid, android
Control :
Click and tap to play.
Author :
cartoonnetwork.com
---
Komentarze
Zaloguj się lub zarejestruj, aby dodać komentarz