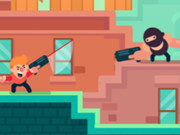 Agent Gun
---
Opis :
Agent Gun is a gun shooting game. You need to go upstairs, take down all of your enemies as you play secret agent. Try your best to earn gold coins and buy more weapons! You must shoot at the right time, or you will be killed by the enemy. Have fun and good luck!
Hasła :
turn-based, Shooting, platform, Killing, kids, HTML5, House, Gun, collecting, Boy,
Control :
Mouse or tap to play.
Author :
lagged.com
---
Komentarze
Zaloguj się lub zarejestruj, aby dodać komentarz