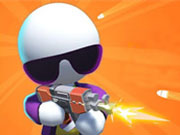 Agent J
---
Opis :
In the game Agent J, you will play as the fearless spy Mr. J. He is an undercover agent who is good at handling difficult situations. Your mission is to use your shooting skills in this ultimate spy game, unlock unique weapon upgrades and upgrade your spy game, invade the computer interface, go over surveillance cameras and dodge deadly lasers, and fight your opponents in an epic battle Confrontation and become the only ultimate spy, are you ready?
Hasła :
Submachine Gun, Shooting, Obstacle, Launch, Killing, kids, Gun, fire, Boy, HTML5
Control :
Click or tap to control.
Author :
yad.com
---
Komentarze
Zaloguj się lub zarejestruj, aby dodać komentarz